Remake Learning Days Across America, the Nation's Biggest Family-Friendly Festival of Learning
Post Category
Central Project Office updates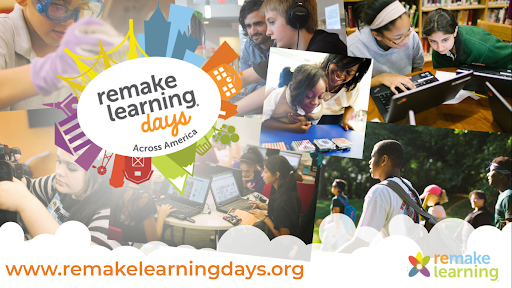 The Central Project Office for the San Diego STEM Ecosystem (aka the Fleet Science Center) will be the Regional Lead for Remake Learning Days Across America in 2022.  Changes in staffing at the Jacobs Institute for Innovative Education at USD necessitated a new Lead for RLDAA-SD.  
We are excited that this family-friendly festival of learning will continue in San Diego and that national partners will help cross-promote local opportunities to learners.  The San Diego STEM Ecosystem efforts are aligned with RLDAA on a larger and smaller scale.  Larger because we are trying to connect people to STEM learning opportunities throughout the year and throughout their lives.  Smaller because we are focused on San Diego County and not 17 communities around the nation.  
RLDAA gives us an opportunity to see what happens when we collaborate and communicate in a coordinated fashion.  From the combined impact on the number of students we can serve together during this defined time, to the results of amplifying opportunities through SD STEM Ecosystem, RLDAA, and individual partner websites and social media channels, we can help San Diegans know that we are on our way to create a San Diego where every learner is at the center of a rich ecosystem of connected STEM learning opportunities and STEM-supportive individuals. 
 
---
Remake Learning Days Across America (RLDAA) returns this spring to San Diego County between April 22 – May 2, with family-friendly learning events designed to engage caregivers and kids.  We are again joining 16+ regions around the country in this effort.
Launched in 2016, RLDAA is a festival of events celebrating learning innovation that will be hosted by a variety of organizations – from schools, museums, libraries, community hubs, tech startups and more.  These events are designed to offer relevant and engaging educational experiences for youth of all ages (pre-K through high school). The majority of events are free.
Families can search events by six learning themes: arts, maker, outdoor learning, science, technology and youth voice. There are also professional development sessions for educators. Because many events are virtual, families nationwide can join in events happening anywhere. 
"With caregivers more engaged in children's learning than ever before, our hope is that these festivals spark new passions for youth and inspire families to deepen their learning experiences together," said Dorie Taylor, producer of RLDAA.
Led by the Central Project Office of the San Diego STEM Ecosystem locally, our goal is to offer 50 events from 30 host organizations around the County.  Mini-grant funds will be available for a limited number of organizations. More information about Remake Learning Days Across America events in San Diego can be found at: https://remakelearningdays.org/sandiego/