Partner Spotlight: Brain Balance
Post Category
Partner Engagement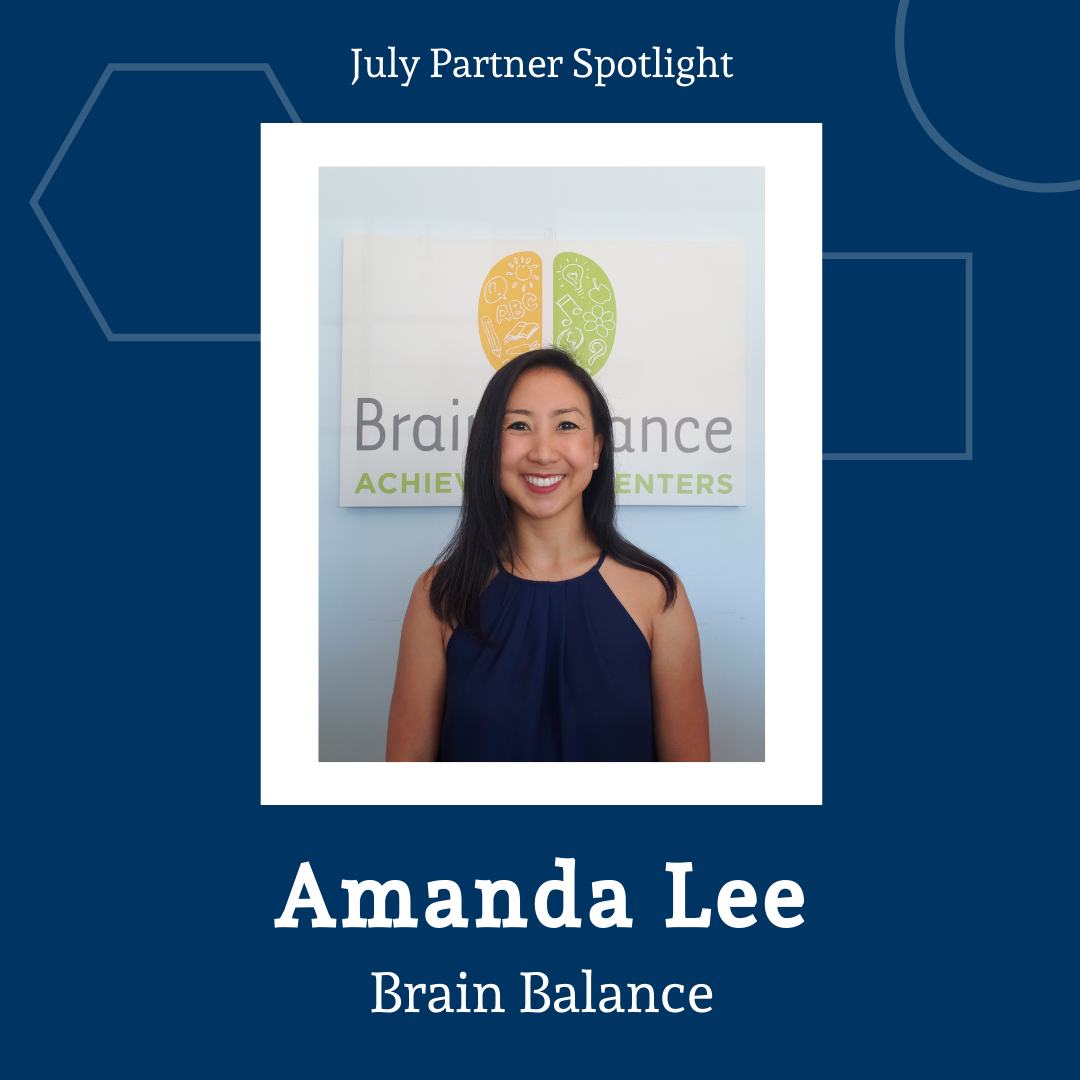 Share about yourself, your organization, and your role in the San Diego STEM Ecosystem.
Amanda Lee, M.A.Ed. is a lifelong learner. She is a sponge for information and active in promoting equity and access to quality education. She believes every person should have the opportunity to actualize their full potential and to live life to the fullest, and is currently serving as Center Director at Brain Balance of San Diego to do just that. Her other passions include dancing, beach volleyball, enjoying the outdoors, travel, science, and being a foodie. Every day she aims to inspire and be inspired. 
Brain Balance offers a personalized, drug-free program designed to improve attention and focus, behavior, social skills, anxiety, executive functioning, and academic performance (i.e. ADHD, Autism, learning disorders like dyslexia and reading and math skills, defiance, sensory processing and environmental sensitivities, etc.). The program takes a comprehensive, whole child, integrative approach to strengthening brain connectivity through physical and sensory-motor exercises, academic skills training, healthy nutrition, and confidence building activities to get to the root cause of each person's behavioral, social, and academic challenges. 
Over the past decade, we have helped over 45,000 families nationwide to improve critical life skills and create a brighter path for their future. We have studies with Harvard University's McLean Hospital, Cambridge Brain Sciences, University of California San Francisco, and Journal of Mental Health & Clinical Psychology showing the success of our unique, holistic program.
My role in the Ecosystem is more support as of late. I was previously the Early Childhood STEM Working Group Chair for over 3 years and part of the Leadership Team, developing a strong partnership between different organizations and providing outreach opportunities including professional workshops for educators. You can learn more about these workshops and our working group efforts at sdstemecosystem.org/early-childhood. 
How did you first get involved with the Ecosystem?
I first got involved in the Ecosystem as someone who was passionate about STEM and community outreach and collaboration. At the time, I represented the San Diego Children's Discovery Museum as the Director of Education, leading the development of their early childhood STEM programming.
How is your job related to STEM? What is your favorite part about your job?
My job is related to STEM, because we apply knowledge in fields including neuroscience, nutrition, physiology, social science, and more in addition to the use of cutting edge technology to help build stronger brain connections so individuals can thrive and struggle less with their academic, social, and behavioral challenges. We help students improve focus; emotional regulation; learning including reading, comprehension, retention, and math; sensory processing; social skills; executive functioning; and more. 
My favorite part of my job is bringing hope to families and watching so many students' confidence and abilities improve as they are better able to meet their potential.
What makes STEM so influential or important in the San Diego Community?
STEM is important in San Diego County, because we are an interconnected, complex network relying on each person and each field to work together to build up the potential of our community. We have to help our youth understand the interconnectedness of the world and the impact they can make through a variety of fields by weaving together diverse and necessary skill sets. The community must also understand the social and economic impact the STEM industry provides to San Diego County.
What about the San Diego STEM Ecosystem's mission resonates with you?
San Diego STEM Ecosystem's mission resonates with me, because I too believe in providing each person opportunities to thrive in a supportive environment. Collaboration is key, and together, we can make a difference.